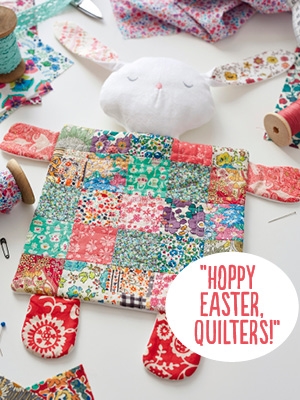 It seems like such a long time since I popped in here, and there's lots to catch up on, but first I wanted to share my Liberty bunny comforter – This Little Rabbit – who featured in the latest issue of Love Patchwork and Quilting (Issue 20).  I do wish I had little baby of my own to give her to!
I've had the idea of making a bunny comforter at the back of my mind for several years now but it wasn't until the lovely Jenny commissioned her for the magazine that I thought to pair the flannel, which I'd always intended to use, with Liberty.  She's a perfect project to showcase the gorgeous small scale prints which Liberty does so well and to play with their lovely fabric without breaking the bank – and, of course, Liberty Tana Lawn is the softest of cotton fabrics.  Combined with squishy flannel she's very lovely to hold and cuddle.  I'm pretty sure she'd be equally lovely as a 'he'! I'd love to know if you do make a bunny comforter of your own – whether it is of the boy or girl variety!
I do hope you had a lovely time at Easter and have been able to enjoy this glorious weather…….I'm so enjoying seeing some sunshine and feeling that the ground is warming up ready for new growth but is it causing me some anxiety – I don't know how to split my limited free time between gardening and sewing……any solutions?!  Admittedly I can do a lot of my garden plans with Katie but, just occasionally, it is more relaxing to enjoy it without endless questions and with a little more efficiency!
Save