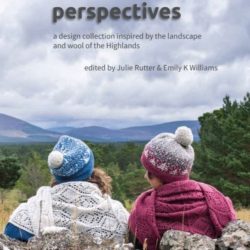 A design collection inspired by the landscape and wool of the Highlands.
Going outside can bring you closer to your inner self. Rooted deeply in the Scottish landscape, these six patterns using naturally dyed Scottish wool take inspiration from outdoor adventures and inward exploration.
To buy a print copy, with Ravelry download code, select 'Add to basket' below. Alternatively you can purchase a digital PDF copy via Ravelry or PayHip (when you buy a digital version of Perspectives you will receive a PDF download of the book. Buying this way is non-refundable).
Choose 'Perspectives Book' for postage at checkout, if purchasing as a single item. 
Buy now