Hello and a very (belated) Happy New Year!  I do hope 2017 is a wonderful one for you. Mine, so far, has been very busy and very exciting…….I guess that counts as a pretty good start!
I'm a little nervous to tell you this (but really there was no point in having done it if I don't) – I am on the latest Knit British podcast, out this morning!  I feel incredibly honoured to have been interviewed by Louise especially since it is her wonderful work in promoting British wool that sowed the seeds of my idea for Black Isle Yarns.  I have no idea if I'll sound daft or make any sense but hopefully there'll be some chat about how I came to be making yarns that is of interest – and Louise is always fabulous to listen to.  I believe there's going to be an interview with Joy, The Knitting Goddess, too.  She has been doing some wonderful work in producing local wool for her dye pot.
Here is the link to the podcast, episode 75!
---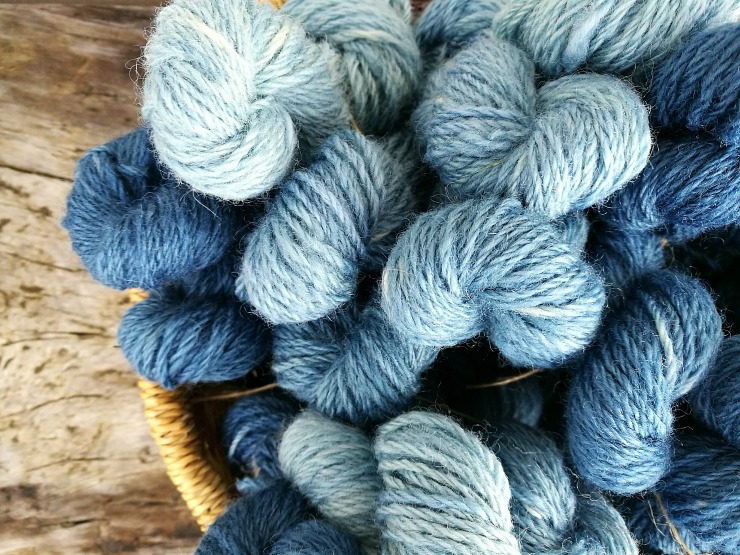 I have a small shop update going live tonight too (Friday 27th January at 7.30pm UK time) – there's several mini skein gradient sets in 5 shades of indigo.  I really enjoyed bundling up the sets with one mini skein of each shade (100g in total).  I can't wait to see what you use them for!
I also overdyed skeins which had been previously dyed with madder and cutch. The resulting colour is a stunning warm steely grey with splashes of cochineal pink.  I will have a hard time parting with these and am sure there will be more along the same lines in future.

---
The final bit of news I wanted to share is that I dropped off the next load of fleeces at The Border Mill earlier this month.  I was down in Edinburgh anyhow, not far from Duns where the mill is based, so took the opportunity to deliver the fleeces at the same time.  They won't be looked at for another couple of weeks yet but I much prefer to keep the carbon miles as low as possible.
I have some exciting plans for this batch.  My plans and the final outcome will be reconsidered once John and Juliet have had a chance to wash and sort the fleece – at that stage we can have a really good chat about what will suit each grouping of fleeces best.  I'll keep you updated as things progress though I may not reveal the final plans for a while yet.  All is still on track to be available by mid-March.

---
If you're keen to be the first to know about future shop updates and other news do join my newsletter (find it at the bottom of the home page – here) – I sent one out last night and plan to always do so before new batches go live.  I keep my instagram feed fairly up-to-date too and love hearing from and interacting with people over there……if you fancy some more behind the scenes information and photos that's probably the best place to head.  I do like to share photos of the beautiful Scottish Highlands as well as my crafty endeavours!