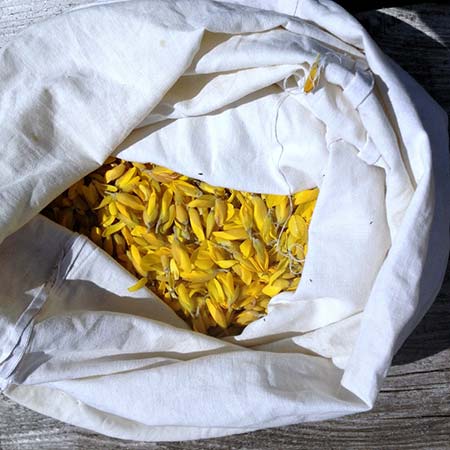 Natural dyeing combines my love of nature with the pleasure and relaxation that knitting brings – and creates beautiful colour along the way.  Making colour with natural dyes is an age-old process (until the mid 1800s all colours came from natural sources) and I really appreciate the connection with the ancient knowledge and skills that comes from using the plants I grow in my garden or collect when walking locally.
Many factors influence the colours derived from natural dyeing.  From one dye bath to the next results will vary, even from the same part of the same plant – soil, age, time of year and weather conditions all play a role in the outcome – so that each batch of yarn, and even each skein, will be completely unique*.
In order to produce a wider range of colours I also use a carefully selected range of imported natural dye materials to work alongside those I grow and collect locally.  I only work with the safest of materials – for my own safety, the environment and also for your peace of mind.
It is a slow but rewarding process.  Firstly the yarn is washed (scoured) with pH neutral Ecover dishwashing liquid.  Next I'll mordant the yarn with alum (a non-toxic and environmentally safe water-soluble metallic salt) to help the dye bond to the fibre and increase light- and wash-fastness.  Then the dyeing can start!  Sometimes I'll alter the colour achieved by varying the pH with vinegar or washing soda, or by adding iron-water.  The final step is to carefully rinse the yarn several times and then soak it in a pH neutral wool wash (I like to use either Eucalan or Soak).
It is a slow and intensive process but so worthwhile. I hope you will enjoy the beautiful natural colours as much as I do.
*However if you have a special larger project planned I can dye to order to create a larger amount in a particular colour. Please contact me if you have any special dyeing requests and we can work out a custom order.



Save