Probably the cutest ever knit in BIY – I love the Cockle Socks by Katie Green! Lovely Katie is a talented illustrator and comic drawer but also designs knitting patterns, and luckily for me she designed these socks in my Killen Sock yarn. There's more information about Killen Sock here.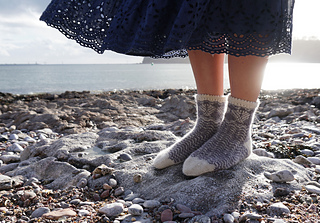 Katie's fabulous design uses just under 100g of Killen. Currently, Killen is one of my small batch yarns so won't always be in stock but, when it is, I'll try to ensure there's some Cockle Sock kits available in the shop. Each kit will have just the right amount of yarn, in two shades for knitting your own pair of Cockle Socks.
Katie says: ' The Cockle Socks are knitted from the cuff down with a Picot Hem, charted colourwork design, heel flap and gusset and a barn toe. The pattern is written in one size for a stitch count of 64. Gauge adjustments will enable you to knit different sizes. '
You can find the pattern in Katie's zine The Green Bean which you can buy here directly from Katie.