After several years of spinning my original Killen Sock in 2020 I felt that it was due for a revision. The two main reasons were to increase the twist, which should add to hardiness, and to be able to spin at a lighter weight. After some searching I settled on one of the Yorkshire mills who, after receiving some samples of my Bluefaced Leicester raw wool, were happy that they could spin the yarn well to my specification of 400m/100g. They were able to supply the Mohair element at 20% of the total fibre weight. As I explained in this post, I have tried in the past to source British mohair but haven't been successful. The 80% BFL comes from one farm, The Arr farm where Muriel and Stuart are specialist pedigree breeders. The Arr is around 1 hours drive south of my base in Fortrose on the Black Isle. The mohair used in the revised Killen comes from South Africa.
I excitedly awaited delivery of the new yarn in summer 2021 – and was delighted with its lustre and drape. The twist was much higher than my previous version and it looked promising as a sock yarn, given that the original had stood well if knit at a tight gauge. I quickly began knitting a pair of vanilla socks, which actually became my first completed pair (which I am slightly ashamed to admit!). Since then I have been wearing them almost continuously to test how they will wear. After 40 days, not all full days (some were too hot!) and quite a lot of walking they are holding up well. From the outside there isn't too much of a difference, a little shininess under the heel in particular and some roughening and felting of the fabric. I have removed a little pilling over time. Inside they have felted, especially under the ball of the foot. Some fine fibres have worn off but the felting seems to be a positive in terms of strength. I hadn't actually sewn in the end where I finished the toes, and it has now blended into the felting under the ball of the foot! I knit fairly tightly on 2.25mm – I think ideally I would have used 2mm needles but I didn't have any with a small circumference cables, which is my preference for this type of project. My gauge was about 40 stitches per 4 inches, which is probably a little higher than is usual for a sock yarn but the revised Killen Sock is dense rather than plump so is quite a fine yarn in diameter compared to other yarns at 400m/100g.
I'll carry on wearing these socks to see how they continue to hold up. I hope the collage below helps give a good feel for how they have worn. Please excuse the fact that the are not the most perfectly knit socks!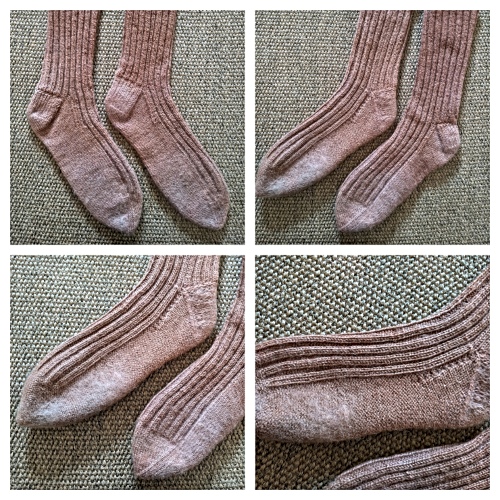 Several lovely women conducted Wool Exploration reviews for me. These are based on the format used by Louise Scollay of WoolWork, and I have Louise' kind permission to use her spreadsheet. The reviews were conducted over a short space of time and the testers didn't have the chance to knit a pair of socks and wear them. The link below will take you to the reviews, there are 7 tabs in total which can be scrolled through at the bottom of the page. I hope you find them useful. In addition to my early sock wearing results there seems to be a general consensus that Killen Sock will prove to be a good lace knitting yarn. It holds the pattern well, drapes beautifully and develops a lovely halo on washing and blocking.
Thanks very much to the very kind review group for their time and effort in helping build a picture of the yarn based on their testing and experiences. I hope the reviews will be useful.