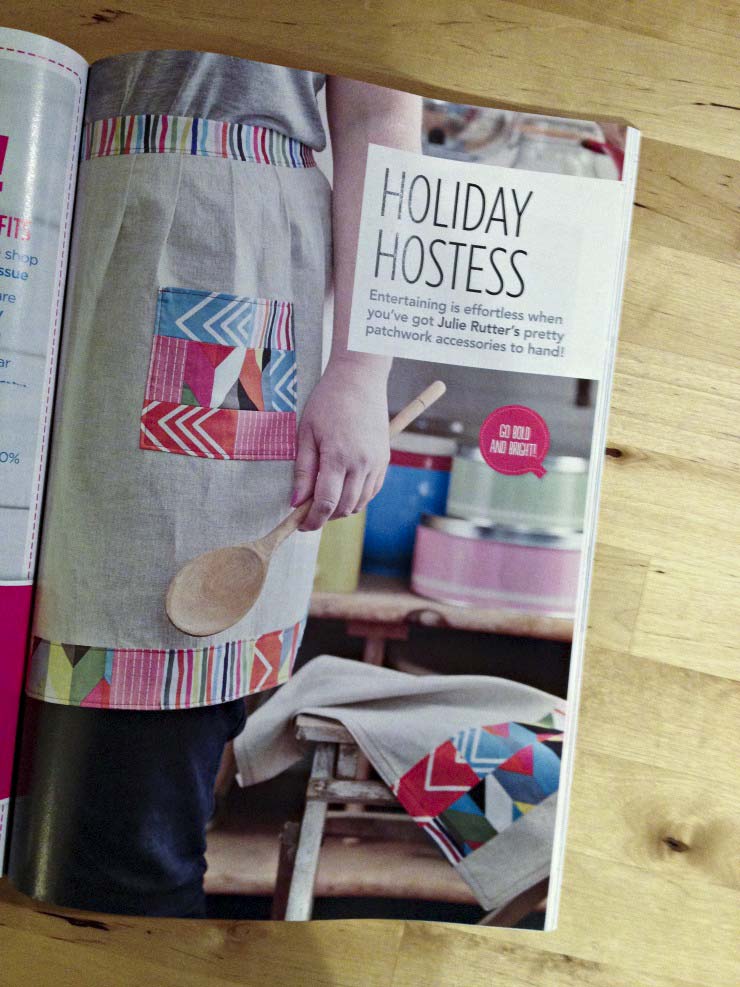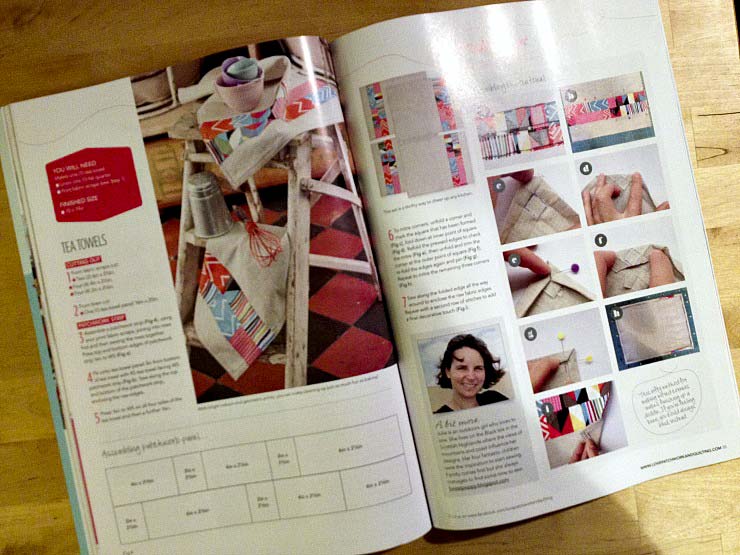 Thank you so much for your very kind comments lately.  It was lovely to know that you had found my new site, to read your healing wishes for Islay and that you liked the apron and tea towels.   I am still very giddy with excitement, and can't quite believe, that my sewing has been featured in a magazine.  I had the shock of my life when Jenny, the lovely editor of Love Patchwork and Quilting, emailed me and asked if I'd be interested.  She's very lucky that I restrained myself and didn't bite her arm off!  Can you forgive me for sharing a couple more photos, these will be the last I promise?!  I have a spare copy of the magazine here, would anyone be interested in it?  I'll happily post anywhere.  As I said before, it is a great magazine and the one that I have been enjoying the most recently (alongside Quilt Now, which is a new magazine edited by Katy, and looks to be going from strength to strength).
I'm delighted to say that Islay's arm is doing all that it should be.  She had a check-up yesterday and the bones are still sitting exactly as they should be.  She isn't allowed out to play for a long time, probably about 12 weeks – her poor wee face fell completely when this was reinforced yesterday.  But since I found her at the top of our climbing frame, within 24 hours of being wheeled out of theatre (you can imagine the fright she gave me), I really think it is a very good idea.  She will get through a lot of books in three months if she can't let off steam outside.  Hopefully, once the cast is off, we can try to swim regularly.  Not so easy up here as we need to drive half an hour to the nearest pool, but it will be worth it to keep her busy!
I'm afraid I can't share any photos of this weekend's sewing but I have some interesting links to share::
Lily and Charlie would love one, or two, of these
If you love fabric and creativity, or even if not, I'd urge you to read this.  I'm afraid that I was in complete ignorance until yesterday.  I will be far more aware, and careful, when fabric buying in the future.  I was pointed to the post from Kerry's blog.
Kerry also links to this article which is equally fascinating.
Do you like lists? I do, I have them dotted all around the place and have yet to find a system which I'm happy with.  I think this may well be worth a try.
Save
Save