I was delighted in autumn 2019 to receive back a big batch of Shetland yarn from the mill. To-date I have had my Shetland fleeces spun by The Border Mill, and they have done a lovely job (you can read more here) but in order to have more spun this latest batch was sent to The Natural Fibre Company in Cornwall. The yarn is worsted spun, as per my previous batches, and is spun with the same beautiful quality fleeces as usual. I split the fleeces into three shades this time – Natural White, Fawn and Grey.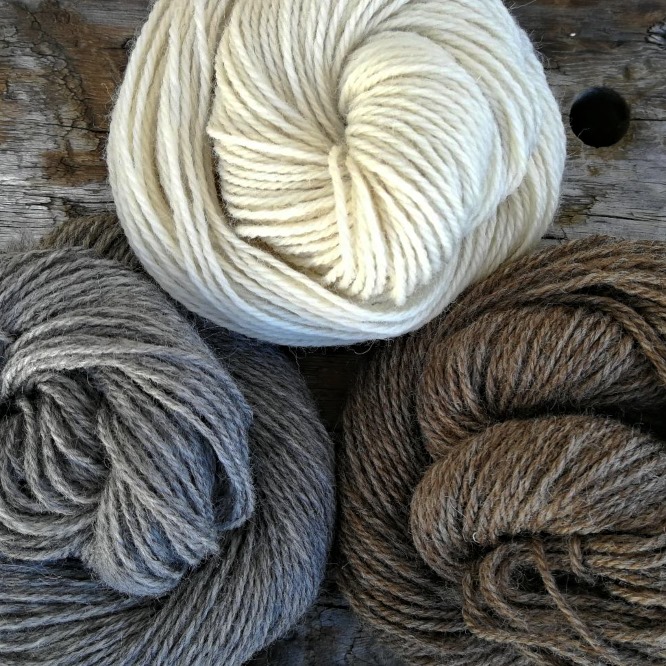 The resulting yarn is really lovely, a little more plump than my previous batches but at least as soft. The 4ply has 2 plies and is 350m/100g (so will also work as a sport weight and is at the heavier end of 4ply weight) and the DK has 3 plies and is 220m/100g. Here's a photo of me sorting the many many fleeces which went into this batch!

I can't imagine a time when I won't have Shetland yarn – I just love the wool properties of this special, Scottish, breed of sheep. And I also love working with the farms and smallholdings I buy the fleece from…………it is so good to go back year to year and catch up with the latest sheep (and otherwise!) news.

I have been really enjoying dyeing each of the three shades. To date I have mostly dyed on my white yarns, and occasionally on grey but I have been particularly happy with some of the shades I've been able to achieve on the fawn. I'll keep both weights of Shetland in stock as much as possible, and you can find it here. I've popped a few of my most recent Shetland colours below, all naturally dyed as always.