I have now been wearing my Timely Cardigan for over a year and I still love it. With the beginning of June Scotland has suddenly decided to warm up at last and I'll be wearing my Timely even more over the summer months – I find it is perfect over summer skirts and shorts, paired with a tshirt or vest top.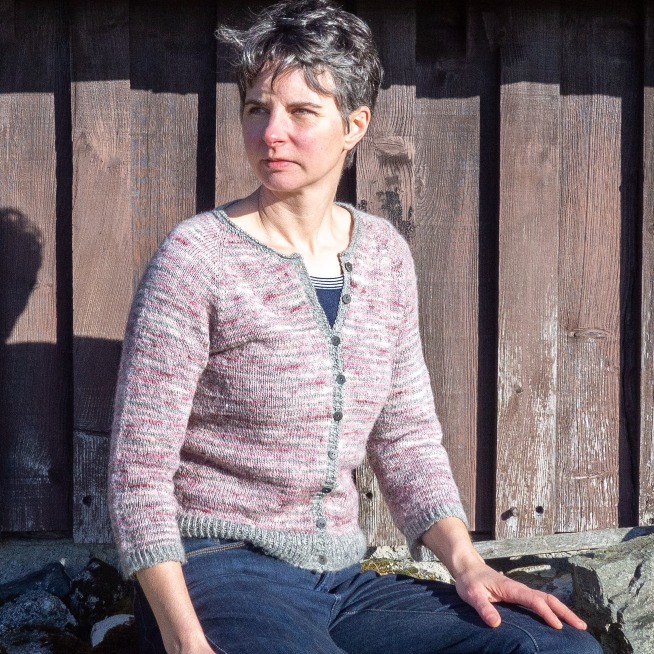 I knit my Timely in BFL Suri 4ply, which is a lovely soft drapey yarn which has worked very well for this little cardigan. I used just over two skeins of the natural undyed Silver as the main colour. For the contrast stripe I chose Culloden (which is a lovely tonal pink-red shade, dyed with Lac and Hibiscus, and works really well with Timely's stripes) and needed just over one skein. I knit Size Three which has a finished bust of 32.5″ giving me around 2″ negative ease. I lengthened the body slightly to better fit my long torso but otherwise made no modifications.

I'm currently knitting a second Timely, with undyed Cream as the main colour and Dragon as the contrast (dyed with fustic and indigo, a dark tonal indigo with flashes of green and orange). I don't plan to make any changes to the pattern other than lengthening the body again.
I would thoroughly recommend this design by Libby Jonson of Truly Myrtle. You can find my Ravelry notes here, and the pattern can be found on Ravelry or Libby's website.