I think it is about time I let you know what I have been plotting and introduced you to Black Isle Yarns *!  I've been quite conscious for the last year or so that Katie would be starting school (several weeks ago now, the time goes so fast).  While I absolutely loved all of (well, most of!) the last 14 years (Finn has just turned 14, my goodness) with a wee one at home I knew I needed to work out a plan of action for the dreaded day when I'd be home alone.  John's job has many plus points, the main one I guess being that he loves it, and he is often home for us all to eat together even if he has to go back out later, but it doesn't allow him to be here before or after school.  My preference is not to have the children in childcare and going back into forestry would inevitably mean we'd need at least some – so I have pondered a lot over what I should do to bring in some much needed financial help to the family.
My sewing helps a little, but even if I spend more time on it I'm not convinced that I have the unique skill or talent that would be needed to build it up into a sensible business (I'm not planning to stop though as I do love it and I'm sure you can imagine how rewarding it is to bring ideas to life). You may have picked up that I have been knitting more and more over the last few years – I'm still very much learning all the time but I have found myself very drawn to it as my favourite way of relaxing.
And at the same time, while I have still spent most of my free time sewing, for the last couple of years I have been listening to knitting podcasts while sewing.  It took another new interest around this time last year for me to finally realise why I much preferred knitting podcasts – which had been puzzling me, especially since it is quite tricky to listen to gentle knitting  talk over the hum of a sewing machine!  I have had a growing interest in natural dyeing (first sparked I think by Annie) and I brewed my first dyes last autumn/winter…..my goodness I enjoyed it.  Collecting local plant materials to create colour and then using a little chemistry to encourage that colour to bind with wool is so much fun and combines many of my interests.  I unconsciously maintain a mental map of the plants and their progress through the seasons in all my favourite places, so that when I began learning which plants can give colour my head was a constant whirl of where to go to collect the various plants I wanted to try.

But then I hit a stumbling block – what to dye? I really didn't want to dye with imported wool, which is mostly what is available in British shops, and it made no sense to me to be naturally dyeing superwash wool (have a wee online search if you're not sure what superwash is but basically it involves treating wool with chemicals so that it can be machine washed – useful but the wool loses some of it's wonderful natural qualities in the process and, for me, doesn't really go alongside natural dyeing).  I was left with not very many options, especially since I'd really rather work with wool that is not just British but preferably grown and produced fairly locally to me.
This is the point at which lots of little pieces all fell into place. As you may know I grew up on a small-holding with around 60 ewes so I am well aware of how much good wool there is around me and how little many farmers receive in return for their fleeces – sometimes even less than it costs to clip their sheep (which has to be done for welfare reasons).  All that knitting podcast listening suddenly made sense too (my main favourites being KnitBritish, NHKnits, Truly Myrtle and Woolful)….they not only talk about wool, fibre and knitting but they consider where it has come from, how it has been treated and relate to the whole process from sheep to finished knitted item.  The light-bulb glowed…….that's why I loved listening to them, because I love sheep, farming, nurturing the countryside (I'm an ecologist and forester after all) as well as crafting and working with my hands.  Knitting and wool gives me a much more direct connection with the land than sewing does.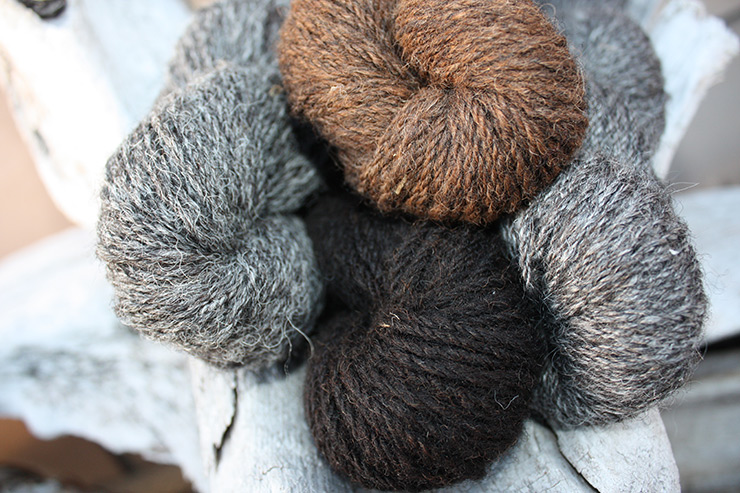 But I still had to work out where to get wool from to dye with.  My initial thought was to contact a local small-holder who I know and see if I could buy a couple of fleeces……..and then things snowballed and here I am with Black Isle Yarns *.  A new wee business which I wholeheartedly believe in.  I've had my first batch of wool spun from two local flocks (with wee additions from other special Scottish sources) – the wool is all grown and raised locally to me in the Highlands and has been spun in the Borders by The Border Mill.  Every step has taken place within Scotland and the resulting yarns are full of character and love – Local, Natural and Sustainable.  The Border Mill is small, friendly and very helpful and very good to work with.  John and Juliet treat each batch individually to make the best possible of the fleece characteristics. They treat the fleeces gently and they come back as beautiful skeins of yarn still smelling slightly sheepy (don't worry once its washed that goes so you won't smell of sheep forever more!).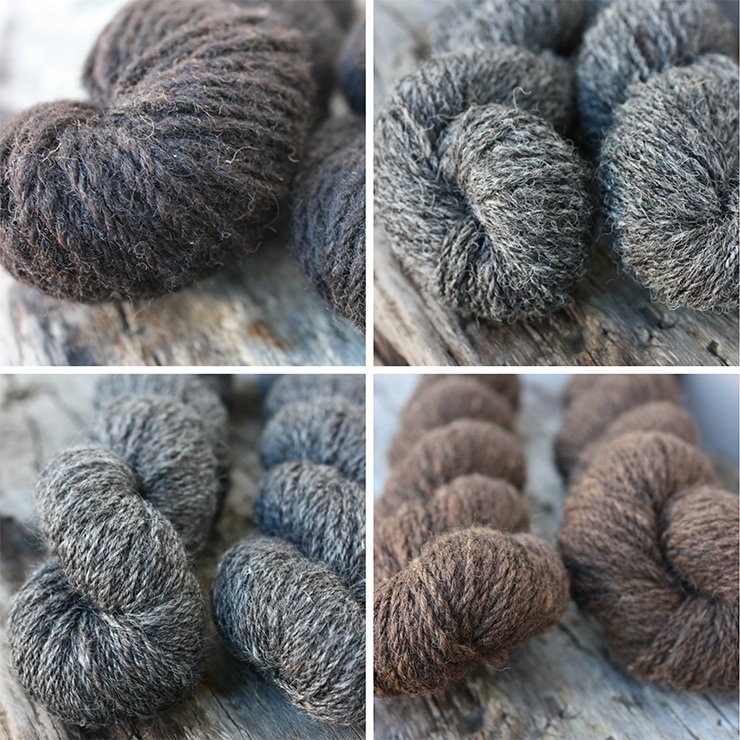 My first batch was small and I'm already sold out of some shades, having attended last weekend's Loch Ness Knit Fest.  I have another show planned and some is promised elsewhere so there may not be much left for the Black Isle Yarns * website which I'm working on and which should be finished soon……..but more batches are booked at the mill.  I can't wait!
I'll introduce the sheep, farms and yarns next time – I think that's probably enough for just now.  Any questions just ask! I'll carry on with Forest Poppy as a family blog once the new site is set up (for a while at least I hope).  I'll be back before the new site is ready and I'll be sure to let you know the web address.  I guess my focus will move over there to a great extent so I just wanted to take the chance now to say thank you so much for your thoughts, kindness and friendship here on Forest Poppy  – I have very much appreciated all the lovely warm and encouraging people I have met (in a virtual but none-the-less real sense)    over the last few years.
*website link won't work as of post publish date but should by the end of October
Save