It was a tricky to decide which of the Black Isle Yarns Autumn 2016 yarns to knit with first but in the end the Zwartbles Mohair blend was selected – 'eeny meeny miny mo' can always be relied on in the case of indecision! I settled on the Hackberry Hat pattern by Ginny Sheller. I love the simple but elegant design and know I'll wear the hat a lot (as well as, of course, bringing it along to upcoming yarn festivals as a sample!).



The pattern was beautifully straight forward and a pleasure to knit. The Zwartbles Mohair blend is really lovely to knit with, smooth and soft, but with a definite feeling of strength, and I didn't have the nose tickling problems which are sometimes associated with mohair. There's a real character to this yarn and a definite drape which works well with what Ginny describes as the 'fun pseudo-slouchy style, more of what I call a "poof" hat' – although it possibly isn't the best yarn choice to show-off the textured design to full effect (the dark Steel Grey colour is also probably to blame here…….but, even if it does hide texture, it is such a pretty and wearable colour!).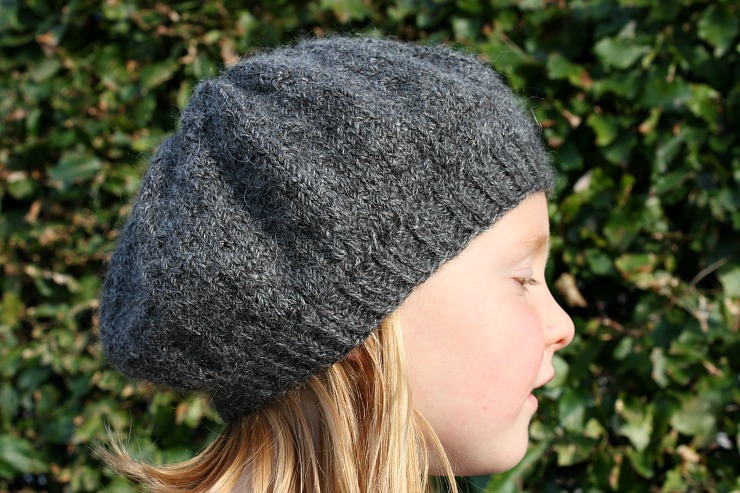 Katie very helpfully modelled the hat for me (only a small amount of bribery involved!) – as her head is smaller than mine, it doesn't show the yarn over increases after the ribbed brim to their full effect but is infinitely better than me trying to take selfies.
Yarn Details: Black Isle Yarns Zwartbles Mohair blend (50%~50%)
Colour: Steel Grey (undyed)
Metres/100g skein: 190m/100g approx.
Weight: DK
Pattern: Hackberry Hat by Ginny Sheller
Full project notes can be found here on Ravelry
Save
Save