I thought I'd write a quick sum-up from Edinburgh Yarn Festival.  I was incredibly lucky this year to attend as a vistor and vendor too.  I drove down to Edinburgh on the Friday and spent a lovely day in the Corn Exchange on Saturday.  The market place really was incredible – so many very high quality vendors.  Apart from feeling rather overwhelmed and not knowing where to start, I had decided in advance not to buy any yarn.  I really struggle to find the time to knit samples and so on in Black Isle Yarns and I knew that if I bought any yarn (however much I'd love the yarn itself and enjoy supporting another business) I'd end up feeling torn about when to use it.  I did however enjoy buying some beautiful buttons from Lydnsay at the Border Tart, lovely knitting themed cards from Julie at Tillyflop and some new chiaogoo bamboo needles from Purlescence.
I struggle a bit with crowds, and while the market place wasn't heaving it was busy, and I kicked myself once I got home for not having visited some of the stalls I really wanted to see…….next time! An addition this year was a huge marquee at the back of the venue which could seat 500.  This was a wonderful place to relax and chat and catch your breath in between forays into the market place.  I loved this extra space.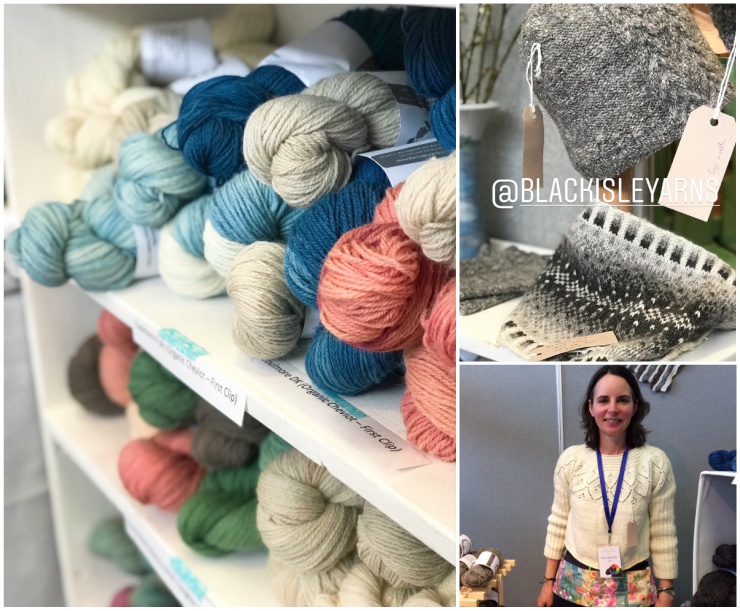 On Sunday I had a Black Isle Yarns stand at the Meet the Shepherd/ess event, also held in the Corn Exchange.  I had been really looking forward to it but was completely blown away by the response to my yarns.  I had so much fun but, my goodness, it was tiring.  Luckily Emily had offered to help out – without her I think the stand would have been utter chaos.  We were kept completely busy for the first 3 1/2 hours (of 4 in total) – we'd imagined there would be time to potter off and look at the other vendors (whose yarn I would have loved to have seen!)……but that simply wasn't possible.
Thank you so much to everyone who came past, chatted and supported Black Isle Yarns.  I really do appreciate your interest and enthusiasim, it means a lot to feel that perhaps my plans are not so daft after all!  I completely forgot to take any photos at all.  Huge thanks to Elin and Kate for sharing theirs with me.  And thank you so much to Jo and Mica, the EYF organisers, for putting on such an amazing show – and for allowing me to be part of it!