I'm delighted to introduce a new book by C&T Publishing. The editors of Love Patchwork and Quilting have pulled 27 flying geese (flying goose?!) projects together into this one stop shop for inspiring projects – I was incredibly surprised, and also very happy, to learn that one of my quilt designs is included!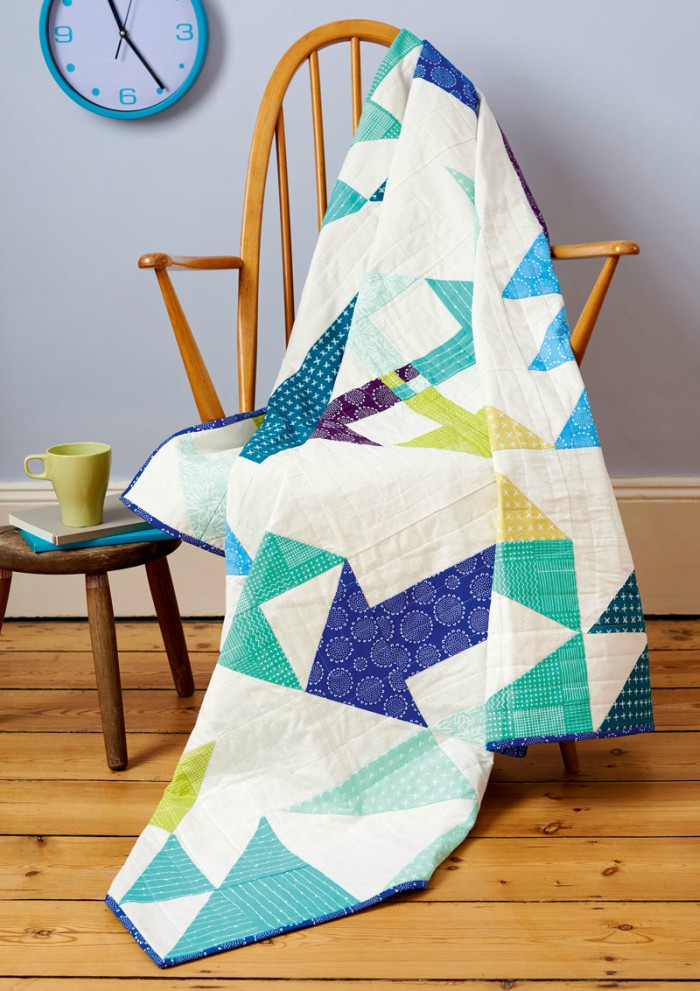 All Around Arrows uses simple quilt blocks, including flying geese, to create a series of arrow shapes which chase each other around the quilt.  This one belongs to Angus (all my children have at least one of my published quilts) and is happily in use on his bed.

All fabrics are by Robert Kaufman Fabris – the front uses Blueberry Park by Karen Lewis and the back is Pacific Widescreen by Carolyn Friedlander.

The book is a great source of insipiration and ideas and if you'd like to explore flying geese I'd definitely recommend it.  Page 37 shows two step by step technoques for making the perfect flying geese (by Jeni Baker) – and I think, as long as you're adventurous, beginners would be able to tackle any of the projects within the book by referring to the technique focus.  As with all Love Patchwork and Quilting work the quilts are laid out clearly, well photographed and have easy to follow step by step instructions.
My personal favourite projects from the book are Rainbow Brights by Elizabeth Dackson and Folksy Flock by Jemima Flendt.
Have a look at the rest of the book tour to find out more about the other projects included: